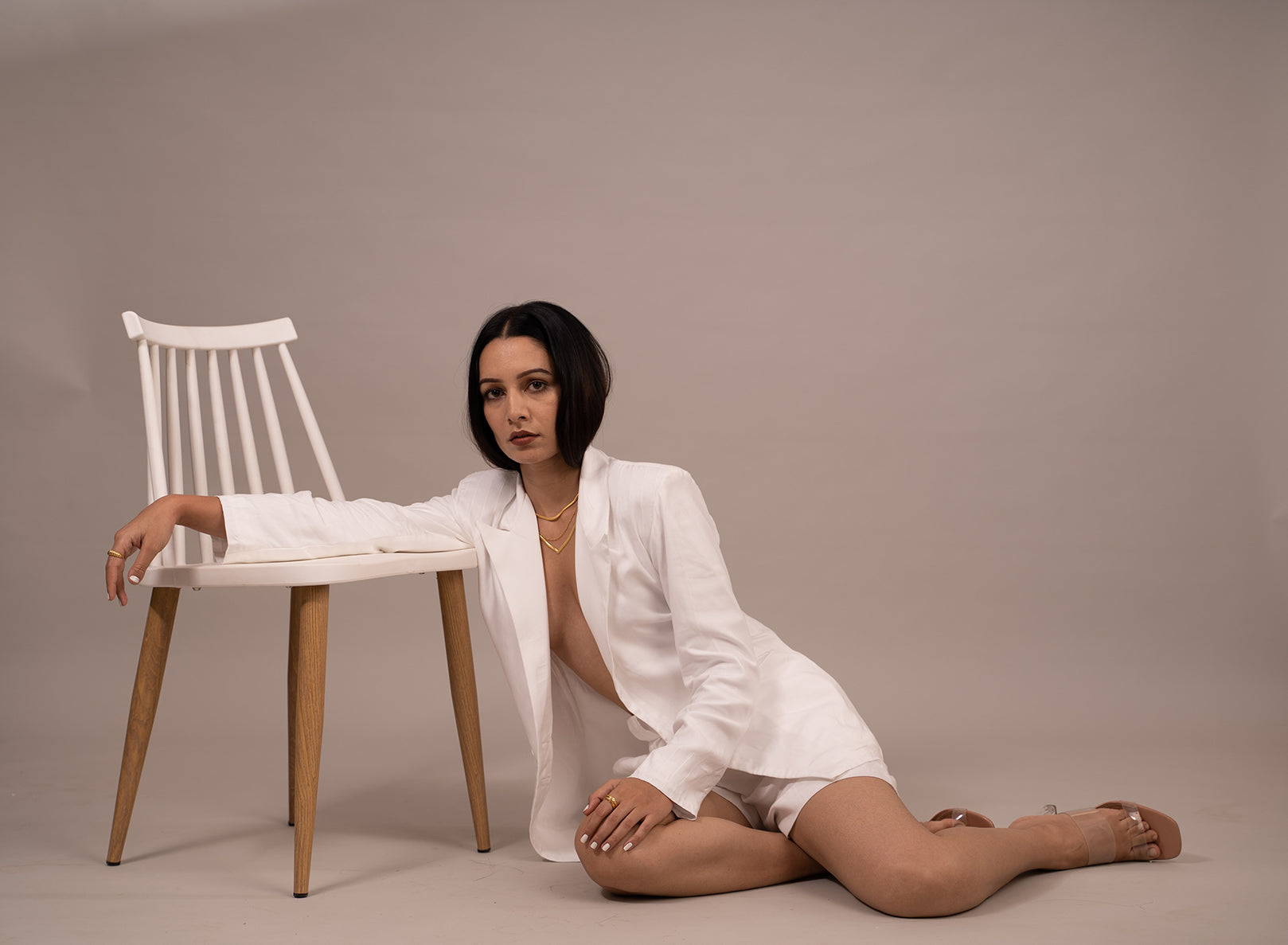 WHITE HARMONY - FOR THE LOVE OF WHITE
Purity

Ritzy

Simplicity

Versatility 

Exemplary

Quintessential


So many connotations! So many meanings! So many interpretations!
For just one color - WHITE!


Well, there's more to describing white, be it in life or your color palette. It's different yet complete & meaningful.


It is one of a color that balances your wardrobe or outfit for every occasion without demanding much while pairing. Of course, it is an adaptable color that will make you fall in love everytime you dress in it with its final classy & plushy look.
And guess what?!


Shibui has harmonized the versatility of "white" into multifunctional vestments made out of Tencel, a biodegradable fabric to stabilize all the colors of nature & threads in your life. Sewing fairness along with representing liberty, this collection - WHITE HARMONY is a synergy of positivity infused with contemporary energy for calmness & purity in this chaotic world, giving you a wholesome experience.
THE WHITE SHIRT 


Our white shirt, AGNES is purely a versatile evergreen wardrobe essential, empowering you to get ready conveniently for any occasion. The subtle puff in the sleeves undoubtedly gives it a powerful & impressive look. 


Pair them up with pieces of denim, shorts, skirts, flared trousers, or even straight pants. You will nail the outfit with any color, bottom, or upper wear without fail. You can even go for an all-white look with Agnes & that, my friend, is one of the safest options for your all-white outfits.


THE ALL WHITE POWER SUIT


If you wish to transit from minimalism to maximalism without being an overstatement, our white suiting is coming along with you.
All you need is our
ALBUS straight-fit pants,
All you need is our
ALBA Bralette & CANDACE Blazer
. Now, you are ready to ace with an eye-candy & compelling look, be it office or a promotional event.
But! But! But! 


Shibui is known for the comfort with twists & so is with this collection. Our white suiting is blessed with
WENDY SHORTS
for that smashing & winning look. 
Why not play a bit with your comfort zone without striking off the comfort ;)


THE WHITE DRESS


How many white dresses are too many? 
We understand your feelings, girls! That's why we have some flary chicky dresses for your vibe.


The
FIONA Dress
is an instant representation of that summer-soaked vacation or brunch by the pool. Supported by double straps along with the flares till the knee, allows you to dazzle with the breeze. Not just that, our 
BELA Dress
with a classic V neck, modern sleeves, gathered layers over the waist, and a belt, level up your not so casual but confident look. Tie it in a classic bow and stand apart from the row.
THE WHITE KURTA/TUNIC


Sewing elegance into straight silhouettes is our IVORY Kurta. Pair it with our Albus Pants, denim, or any other way you like and epitomize style with simplicity.
The quintessential straight sleeves with the round neck and contemporary details in the front give you a tall & sophisticated look. Wrap some quirky scarfs around the neck for some extra detailing! ;)


Besides the kurta, there's a bottom that satisfies your experimental soul.
NOVA DHOTI PANTS
has just the perfect amount of pleats you would want in your dhoti pants. Trust us! It is full-on easy-to-breathe trousers with which you can experiment in multiple ways for a desi and not so desi look.
THE WHITE CHIC TOP


Is your white collection complete without a cute crop? 
Never!!!!


Our
SNOW
Crop Top is going to be your absolute favorite either for late-night parties or that lunch date you are planning to go to next Sunday.
The solid detailing with box pleates in front elevates your look. 


And oh la la la! 


The cute bows at the back of the dress are what you need for the stylish & hot look, be it day or night.


Stimulating your senses, white clothing allows you to speak volumes the way you want every time you wear them. Along with neutrality & impartiality, white also represents versatility.
Whether you are stuck at the bay or have to make way for work
Whether you have a fancy date night or an easy-breezy poolside brunch
Whether you want to go all covered for a classy look or experiment with cool crop tops
White paired with a bit of gold is undoubtedly one of the best options for every tale of your life. 


Adding on luxury, courage & illumination to your look, we have subtly matched some handcrafted, ethical & eccentric statement jewelry from Aarka & Aarjavee so that there is never a dull moment in your life & wardrobe! 


Giving you a complete feeling with White Harmony.