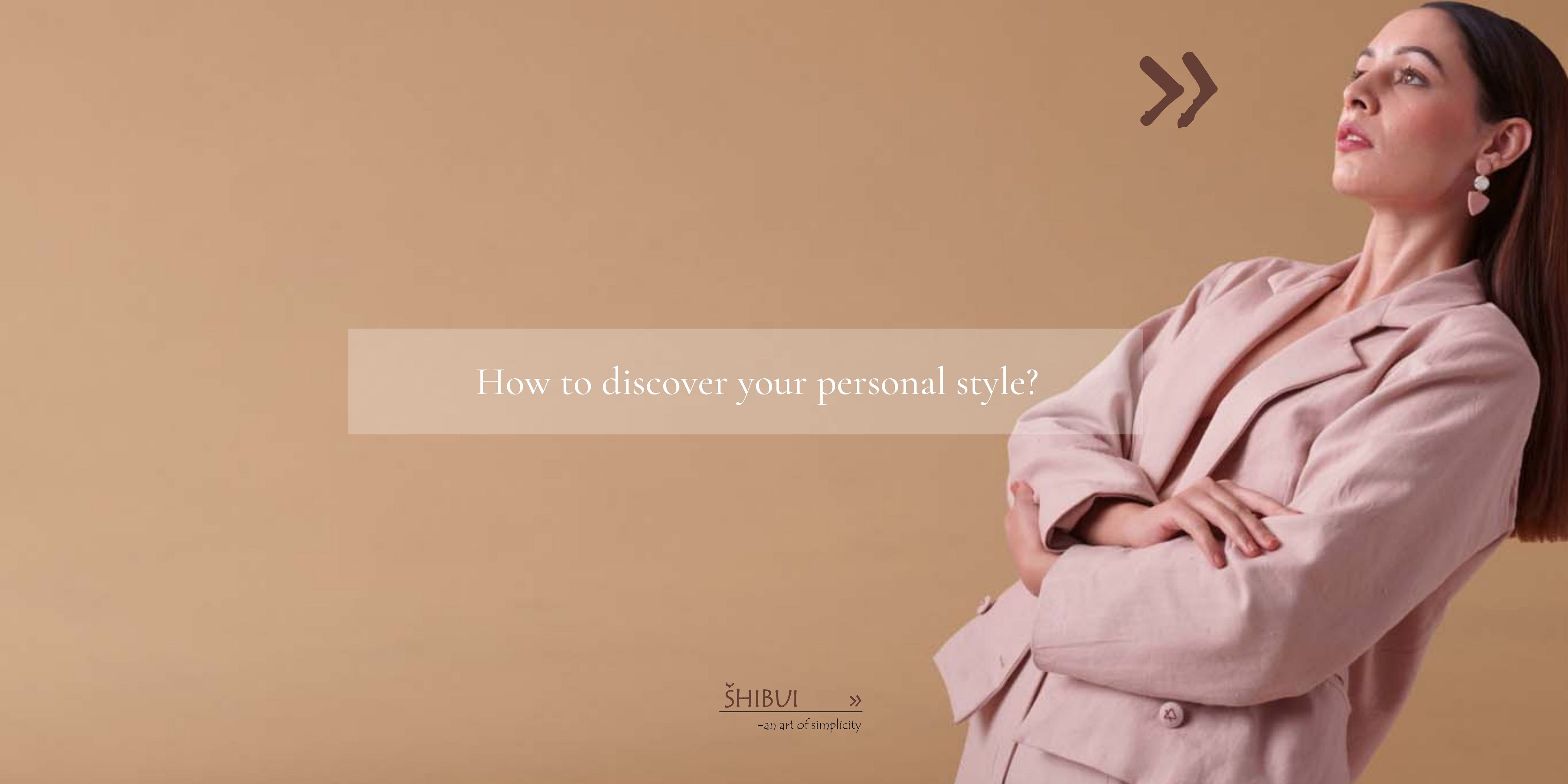 HOW TO DISCOVER YOUR PERSONAL STYLE?
CONFIDENT Chic BOLD Minimal  COLORFUL  Sophisticated Elegance EXPERIMENTAL Quirky SPORTY Cool Approachable Simple Modern Timeless Edgy Classic Relaxed FUN 


So Many Styles! 
So Many Colors!
So Many Choices!
So Much Noise!

But which one is mine? Where do I belong? What do I like? What makes me most happy? 

These are the questions you often ask yourself and still be confused when defining your personal style.


Well, the answer lies in these questions only! All you need is to have an awareness of what you like the most or clothes that you choose frequently. No worries, Team Shibui will guide you step-by-step to discover your personal style, own it & kill it every time you dress! ;)


REFLECT & ANALYSE

It all begins with reflecting on self and the wardrobe. What do I wear often? What type of clothes do I always choose without second thoughts? In which clothes do I feel most confident? Is it in a dress or crop top or shirts or anything else? 🤔


Just dive deep into your wardrobe, take a note of the repeats, figure out your shopping patterns & put labels on them. For instance, you can label our Flamenco Top as Confident, Harbour Top as Sophisticated, Daintree Dress as Edgy, Dauntless Strip Blazer as Modern, Savana Top as Cool, or our Mangroove Dress as Elegant.

The idea is to Reflect & understand the current style & colors you enjoy the most. That's where your 80% styling happens!


INTERESTS & CHOICES

I am sure that when you scroll Instagram and look at certain clothes, you picture yourself in those clothes & fancy that style. In fact, at times, you even try to recreate them. Yaa! Yaaa! I know. We all are in the same boat! 😉


Essentially you should Streamline your interests to ease the process. Listen to your instincts and not on the outside noises. It is not mandatory to follow fashion rules like wearing a black mini dress to a club. These are opinions curated by people only and you can definitely choose to not follow them. You decide what you will wear if it's a club or a date or a brunch. That's the beauty of following your own Style! Classic yet Unique! 😎 

Mark your inspirations into categories. You can do it by creating different mood boards on Pinterest or creating collections in your Instagram saves.

Or you can even take inspiration from Sustainer Naina Uttam paired our bralette for Diwali in an elegant yet chic way. Check it out - https://www.instagram.com/p/CHnjsMpJI9v/

Screenshot or save their pictures in your gallery and try to recreate them according to the mood and the occasion.


CREATE & EXPERIMENT

Now it's time to organize your wardrobe according to the clothes you already have & pieces that you buy after getting inspired. You can experiment with diverse clothing categories and try the look. Take your snaps when you dress differently from the regular and analyze your style.  Not only, it will save you some extra 2000 bucks but will allow you to curate a quality wardrobe. 


You never really know what suits you, or you may discover another style of yours! 💃

You can even check our recent blog on Capsule Wardrobe and design one for yourself based on your interest, preferences & lifestyle.

Shibui always roots for timeless & minimal designs. But that doesn't mean we don't look for creativity. The team designs & fabricates clothes that are effortless so that you can create varied looks with one piece for several occasions yet be unique & confident in your presentation.  

All that is needed is a bit of analysis paired with a daily lifestyle pattern & garnished with creativity & you Rock Girl!