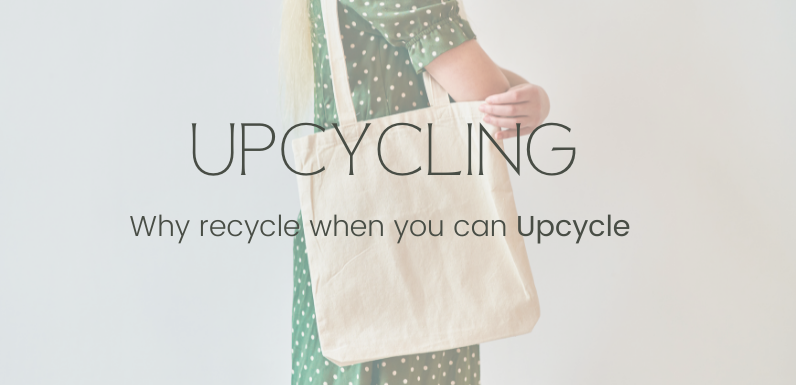 ALL YOU NEED TO KNOW ABOUT UPCYCLING!
Reduce! Reuse! Recycle! Repeat!

I am sure you all have heard of these four terms. They have become quite popular to follow in our everyday lifestyle. But do you know there is one more interesting practice that you can follow? In fact, it is a part of Recycling when it comes to Fashion World.

Let me give you a hint - The process not just converts but also uplifts the product.

The answer is UPCYCLING!


While Upcycling is a part of Recycling but it is not equivalent. "UP" is synonymous with 'greater value' and "CYCLING" with a 'regularly repeated sequence of events.' Putting it into simpler words, Upcycling means converting discarded or residual materials into something of more value than the existing discarded items.

Interesting! Isn't it?

Shibui has always chosen to intertwine every thread, most nobly, unbutton unethical practices bravely & practice sustainability regularly. And where sustainability comes, upcycling goes hand-in-hand. In fact, when we talk about the Life of a Shibui Garment, Upcycling is one ofthe crucial parts of it. Our purpose is to ensure that every leftover material transforms into useful & efficacious products.


How do we Transform Leftovers?

SAVE - It all starts with saving and not dumping the leftovers. We rescue the residual after our stitching is complete. So much so that by now, our workers also understand the importance and do not waste even a single piece of clothing.
DESIGN - The design team then brainstorms to beautifully devise the leftovers into something of utility unimaginably and creatively, just like we made quirky & cool sustainable & safe Rakhi's this festive season. We also have some cute & beautiful scrunchies to give a lift to your hair care daily.
REVAMP - Our talented kaarigars then bring our designs into reality by weaving every thread most generously & skillfully, resulting in robust, decent & timeless essentials.

Why is Upcycling So Essential For Us?

Because Earth is Beautiful!

We are not a typical brand that looks for monetary profit when it comes to upcycling. Our mission is beyond the commercials. Believing in the policy of zero waste and fostering a greener environment, Upcycling is a sure-shot way for us to do something for our Planet Earth that sustains & balances our life.

For us, Upcycling is a source to Save Water, Conserve Resources, Reduce Textile Waste & Ensure Sustainable Choices. It is a path, which we have decided to tread on, not just today, but every day so that our planet can live & breathe not just today but every day!


You can choose to Redesign, Rework & Restyle what you consider as waste. Ultimately, waste is not a waste until we waste it. 

Hence, make wise choices & Repeat to yourself - Make no Space for Waste!

Also, something interesting is under construction by practicing upcycling. Stay tuned to know more! ;)